Smarter creates the future
It's time to put Workflows before Workstations
and open the door to tomorrow's ways of working
We won't leave you to your own devices
Modernising your organisation means more than simply upgrading existing tech. Workflows before Workstations is about first understanding how software and hardware fit into your current processes before buying new devices.
Read our guide on going back and exploring where your workflows can be optimised, and how we can help your business and your people achieve more.
Optimising Workflows
EXTREME PERFORMANCE FOR DEMANDING TASKS
Today, every office worker needs to be a multi-tasker. Getting the job done means running a range of resource-hungry applications simultaneously, and many PCs just can't cope.
In this guide, we explore why it's time to redress the balance between your hardware and software. We'll show you how to create a work environment where multi-tasking is simple. Where users can stay productive and reach their full potential. In short, we'll show you how to create a Power Office workflow.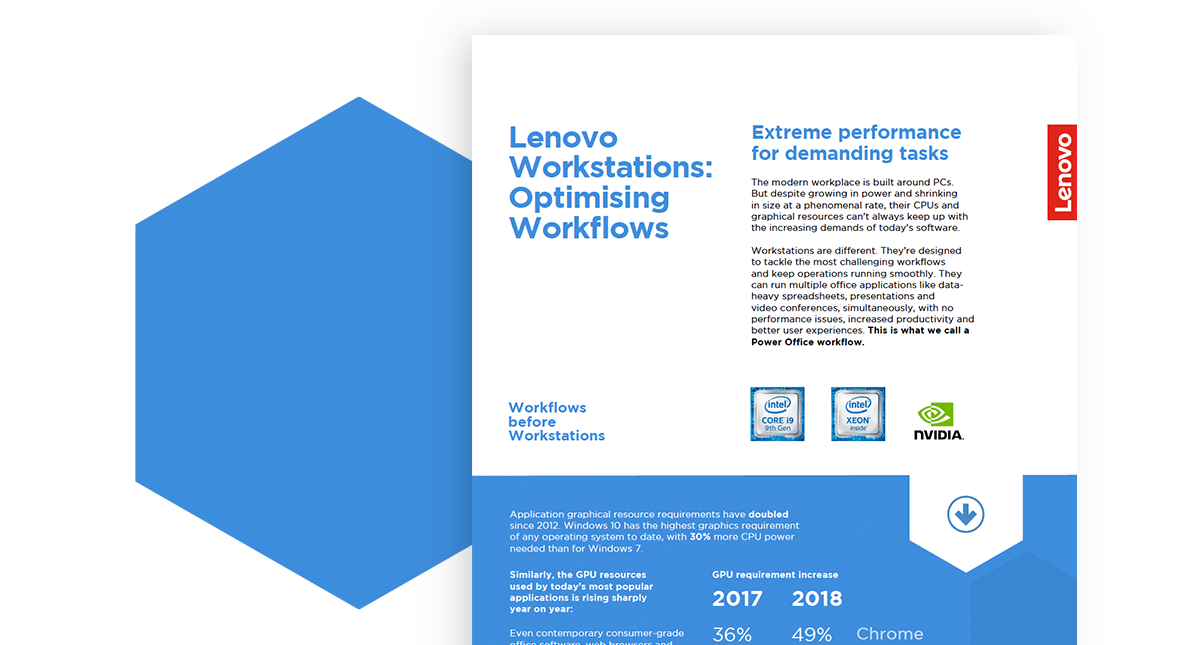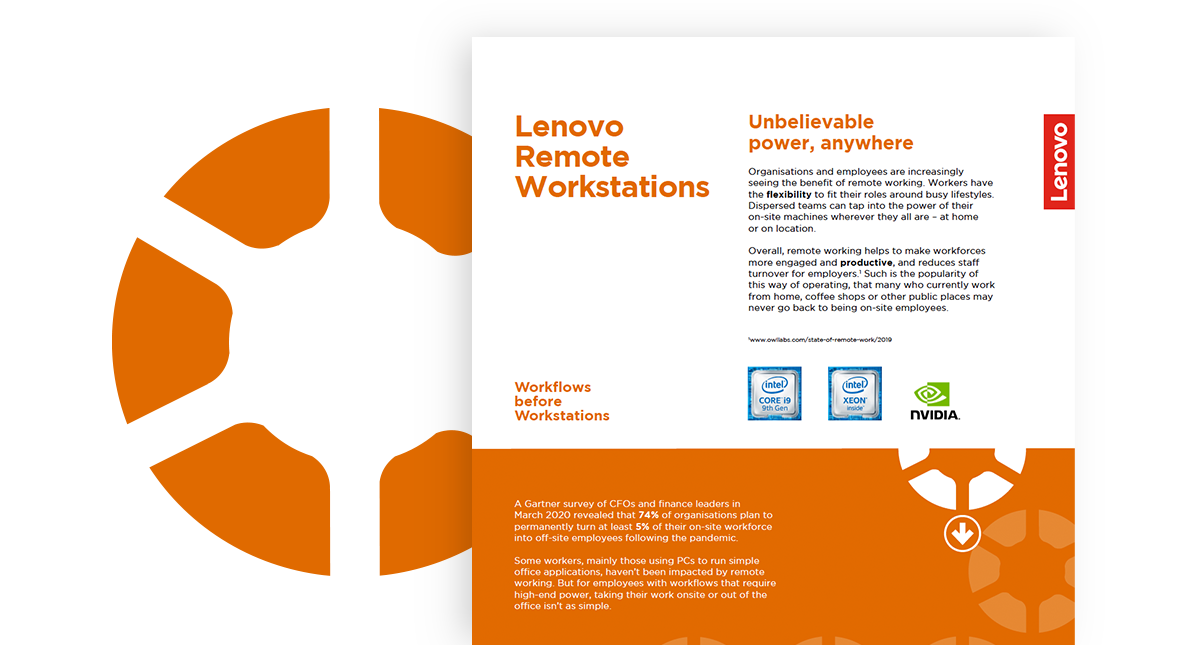 Lenovo Remote Workstations
UNBELIEVABLE POWER, ANYWHERE
Remote working isn't easy for people who can't take their workstations with them. But what if your users could access their powerful machines anywhere from any other device?
In the Remote Workstations guide, we explore how tech is supporting agile working and effective team collaboration. You'll discover how whole industries are changing the way they work by mobilising workstation users and giving dispersed teams the power to share on-site technology.
Lenovo AR and VR
IMAGINE A NEW REALITY FOR YOUR WORKFLOWS
Mobile technology platforms, like augmented and virtual reality, are playing a key role in solving the skills gap caused by smaller, younger workforces.
In this guide, you'll see how building workflows around these technologies can help you discover innovative ways of working and drive better employee and customer experiences.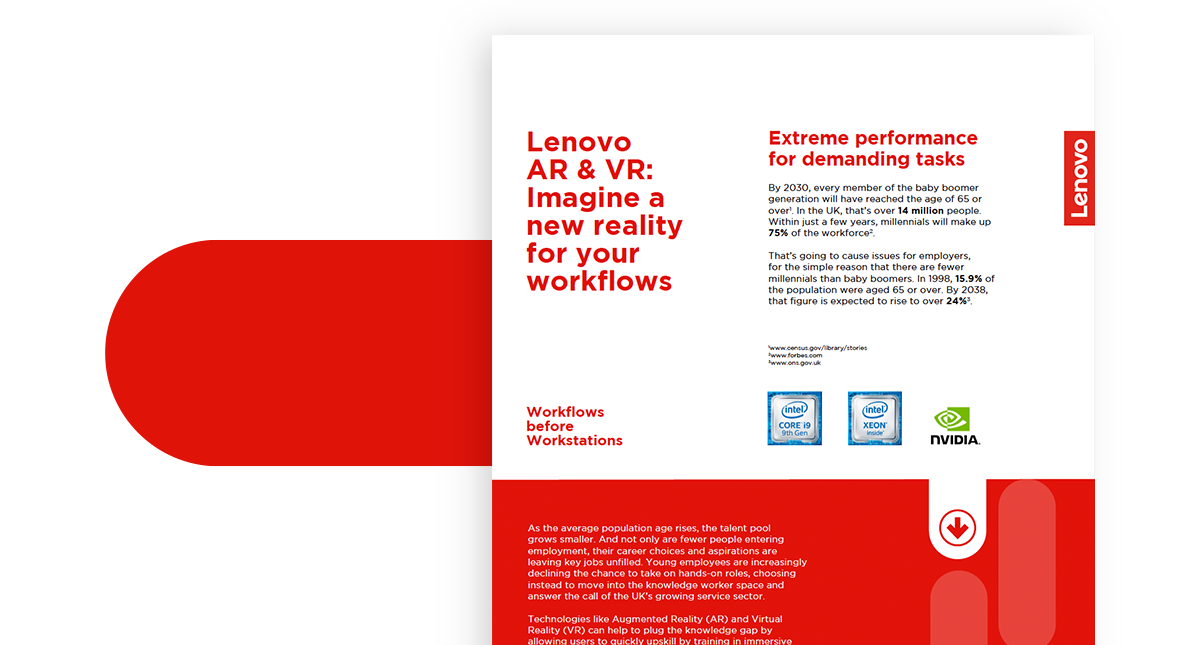 Smarter performance enables legends
Aston Martin's drive to create the most beautiful cars in the world relies on Lenovo workstations.
Ultimate performance meets complete portability
ThinkPad P1 delivers fast and reliable performance at the desk, in a wind tunnel or out on the track, allowing Aston Martin's designers and engineers to create exceptionally crafted cars.
A Lenovo Workstation for any industry
Every workstation computer attribute you need brought to the maximum
Lenovo ThinkStation P Series and ThinkPad P Series
Mobile Lenovo Workstations
Lenovo ThinkPad P14s
Lenovo's lightest mobile workstation
Lenovo ThinkPad P15s
On-the-go power and performance
Lenovo ThinkPad P1
The power you need. The machine you want.
Lenovo ThinkPad P53
Next-level power and performance
Lenovo ThinkPad P73
Maximize your creative space
Lenovo Lenovo Performance Tuner
Highest level of performance tuning capability
Desktop Lenovo Workstations
Lenovo ThinkStation P330 Tiny
The world's smallest workstation
Lenovo ThinkStation P330 SFF (Small Form Factor)
Entry-level powerhouse
Lenovo ThinkStation P330 TWR
Power of a workstation, price of a desktop.
Lenovo ThinkStation P520c
High performance without a high price
Lenovo ThinkStation P520
The most powerful single-processor workstation
Lenovo ThinkStation P720
Professional power with ultimate versatility
Lenovo ThinkStation P920
Lenovo's most advanced dual-processor workstation
Lenovo ThinkStation P920 Rack
A powerful mix of performance and scalability
Now even power users can work remotely
The latest developments in remote visualization technology
New Product Spotlight: The ThinkPad P14s and P15s
Designed for work on-the-go with the ultimate balance between mobility and power
Linux® Certification Across Full Workstation Portfolio
See how Lenovo Workstations are Easing Deployment for Developers & Data Scientists